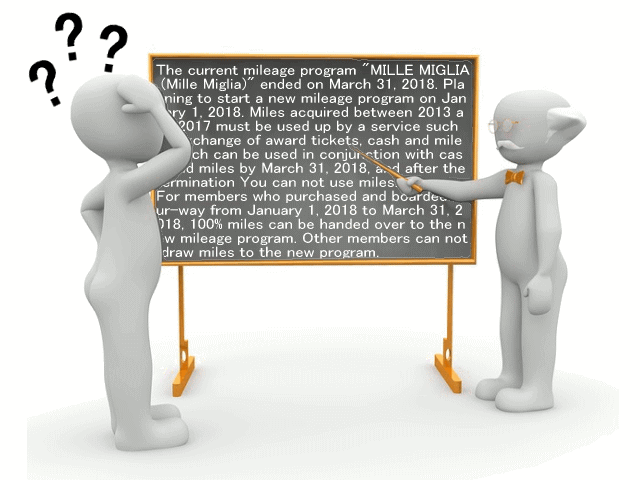 Italian airline belonging to SkyTeam, Alitalia – Italian Airlines
The mileage program "MILLE MIGLIA (Mille Miglia)" will end on March 31, 2018.
I think that the person who knows "I wonder" again!
I've been repeating things like this every five years.
Until recently, Etihad Airlines, a Middle Eastern airline, took the capital participation and was involved in management,
It was getting out of hand and the management crisis theory came again.
From Japan we are operating direct flights from Narita and Kansai to Italy.
It seems that we can take over to the new frequent flyer program, but there are some conditions.
The current mileage program "MILLE MIGLIA (Mille Miglia)" ended on March 31, 2018,
Planning to start a new mileage program on January 1, 2018.
Miles acquired from 2013 to 2017 must be exchanged for award tickets by March 31, 2018,
It is necessary to use up with cash & miles and other services that can use cash and miles together,
You can not use miles after the end.
For members who purchased and boarded four-way from January 1, 2018 to March 31, 2018,
You can take 100% miles to the new mileage program.
Other members can not draw miles to the new program.
However, it is a hard-to-use mileage program.
https://twitter.com/mtkain/"twitter"
http://ranking.poitan.net/asset_ranking.php"Poi search asset ranking"